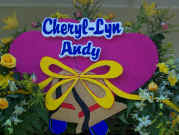 Cheryl-Lin and Andy's wedding was held on Saturday, 17 July 99, 3:00pm, in Kluang, Johore. A Singapore delegation of 23 people travelled by bus (wonderfully organised by Cheng) to Kluang and got to stay at the Prime City Hotel.
After checking in, we proceeded to church (after getting lost for a while) and made it there just before the bride ! We hurried to our seats and were witness to a beautiful wedding where we saw the blushing bride being led by Kian Seng, and finally emerging with a handsome groom.
The thanksgiving dinner was held later that day at 6.30pm in the very hotel we were staying in. The food was excellent, but the "entertainment" was better. Cheng was Master of Ceremonies (in her sexy sarong kebaya) and she made the night all the more memorable for the 440+ guests and the beaming couple with her constant "merapek"ing !! :-)
The next morning, after a buffet breakfast complete with "Yew Char Kuay" (!), we went to Sylvia and Kian Seng's home for the tea ceremony.
After we were introduced to Andrea's beau, and sipped some of the delicious tea, we were soon on our way back to Singapore.
Our kids agreed with us,
the trip was really fun, and we were very sad to have it end so soon. Perhaps there'll be another next year...?