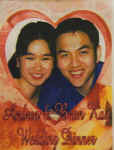 Andrea and Boon Kay's wedding was held on Saturday, 2 Sep 2000, in Kuantan. The wedding dinner for Singapore relatives and Kluang relatives, though, was held on Saturday, 9 Sep 2000, in Kluang. Quite a few people from Singapore drove up by car and we stayed at the Prime City Hotel (courtesy of Sylvia and Kian Seng - thanks !). It was nice to be back after a year, when we came to attend Cheryl and Andy's wedding !!
It was a fun trip up ! We followed the "treasure map" that Sylvia drew for us, and we arrived at Prime City Hotel after about 2 hours without much problems at all. Of course, little did we suspect that we had some uninvited guests that had sneaked into our room...! Anyway, that night, we freshened up and went downstairs to the Matahari ballroom to see the bride and groom !
Cheng was the master of ceremonies (again !), this time in figure-hugging cheongsam (last year, the sarong kebaya apparently did not attract enough !....for those who attended the wedding, you know what I mean !!!!) and she was of course, marvellous as ever....aiyoh, don't know how she comes up with all those jokes in such an impromptu manner ! She got everyone prepped for the grand entry of the bride and groom - men must say this....women must say that....wah, thought we didn't have to work but she had other things in mind ! :-) Anyway, it was all worth it as everything worked like a charm. There was even a specially arranged "ang klong" (?) band that played the wedding march and music while we ate through the once again sumptuous dinner in Kluang !
The food was excellent, and there were the usual speeches, toast to the newly weds, and an extra special item where the groom actually sang a serenade to his bride. The song was the one that he had sung to her from outside her balcony when they were first courting - wah, so romantic - no wonder she agreed to marry him ! Oh, and the wedding cake was super too....personally made and lovingly packed by Sah Kor - transported all the way from Singapore - express !!
Here's a picture of the wedding celebrities....! Don't they all look great !
That night, several relatives went over for the tea-pouring ceremony, but we decided to go the next day instead. Good thing was that we got to see the Andrea and Boon Kay again (without any make up this time !), and were served fragrant tea too !
And also got a group photo of those who were there to commemorate the occasion. CONGRATULATIONS to Andrea and Boon Kay !

We then hopped into our car, and drove back home (after some shopping and makan at Gelang Patah.....great seafood, and cheap too - Restaurant Tian Lai - good keropok too !) Can't help but wonder.... who's next........maybe next year again ? :-)