Links in this page :
By Jeannie Koh

Lawrence has been away from Singapore for more than half of his life. I know that many of you are here because of mom and me, and you may not know Lawrence so well.

I would like to take this time to give a glimpse of the shape and shadow of my brother, so that we can all give thanks for his life.

To know him we have to start with those who came before him.

My great, great grandfather on my father's side seven generations ago sailed from Amoy, China and set forth doing business as a junk trader. He left his home and wandered the seas and landed in the Malaya peninsula. His sense of wandering has not been lost on many of us, his descendents. He and his descendents married women in the region and so our family is a mixture of Chinese and regional backgrounds.

My grandparents on both my father's and mother's side, had a total of sixteen children, and from there, there are some 30 first cousins.

Some are no longer around and Lawrence has now joined them. Others have traveled and settled in other countries including Australia, Austria, England, and the U.S.

Being true to this heritage of exploration, Lawrence had that sense of wandering and of going to far-off places to seek a new life and to make new fortunes. That is what led him to the US, in the state of Florida.

Friends, business partners, colleagues in the US all speak of him warmly. To them, he represented the American dream – an immigrant made good who seized the opportunities of a new land and capitalized on it. The American dream sounds a lot like the dream our great, great grandfather had found here in Southeast Asia.

More than a hundred people showed up at Lawrence's funeral in Florida. Many were business leaders. Lawrence was busy trying to help start a new venture in a city, introducing wireless technology there. He was handling the business side of things – the marketing, building the fiscal foundation.

He was also buying and selling property and was the financial controller of the Embassy
Suites, a part of the Hilton Hotel chain. He did this part-time, refusing an offer to expand his duties and climb up the corporate ladder. He wanted to be unencumbered to do many other things. The sense of needing to constantly explore and find new investments always driving him forward.

And then there were his many hobbies – scuba diving, motorbiking, sailing, driving, jet skiing and finally, flying.

Lawrence certainly did whatever he wanted to, both in his personal and professional life.

He had such a wide range of business and personal contacts and interests that it was a challenge for anyone to get to know Lawrence well.

From what most in the US saw, Lawrence was an active, ambitious person, who had lots of ideas and lots of potential. Lawrence would certainly qualify as one an entrepreneur who took lots of risks.

There were hints of his business talents early in life –

In his teens he always bought one stereo system, to sell it at a higher price and then to buy another to do the same and so on. . . .Or when he got in trouble at school for being a little too entrepreneurial beyond his age by selling products of questionable quality to fellow students during school hours. You have to hand it to him, he knew how to make money. And he had the ACS spirit – the best is always yet to be.

It was a shock, of course, the way he left us – so sudden, and so near to his next visit to Singapore which was to be on May 6.

His plane went down in the Seddon Channel of Tampa Bay, waters that were painfully close to the runway.

And because he was the pilot and owner of the plane, and there was a passenger, there are many legal complications that will take some time – at least two years or more – to resolve themselves.

If ever there was a sense that life is at times beyond our control, that we are limited and that God is mysteriously bigger than all of this, and His purposes are beyond comprehension and manipulation, Lawrence's departure was it.

I do not think that even Lawrence could have ever conceived that his biggest legacy would not so much be material and physical, as much as it would be relational and spiritual.

When we got news of the accident, literally, cousins and relatives around the world were in touch with us within minutes. Uncle Donald, Auntie Doreen and cousin Donna-Mae from California were first to lend support. Thank you. Uncle Donald came in as the strong father-like figure. Auntie Doreen was quick to advise me on what needed to be done. And Donna-Mae shared with me the sense of being the surviving sibling and led the way for me. Truly, she shared her wounds in order to heal mine.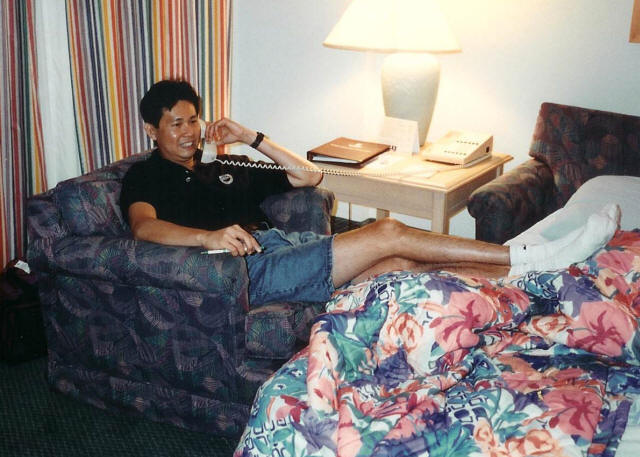 Then, there was Cheng (Liz), Joo Beng and Joo Kim, and Lani. Family webmaster Joo Beng had sent out a notice and within hours, Gilbert and Rupert from Australia and Malaysia logged on with sympathies. Violet graciously helped out to stay with mom off and on, and make sure mom was okay in the first couple of weeks. Gek Ling prayed and wrote encouraging words with great healing humour.

These are but a few of the numerous initial responses by relatives. It would be impossible to name all here.

Lawrence's long term friend, Winston came immediately at 3 in the morning and guided us through some difficult moments, giving us leads on what to do. Another friend, Stephen, took the role of acting travel agent and opened doors to get an impossible last minute ticket.

My workplace – NUS – showed overwhelming support. The Office of Student Affairs extended their help. The Personal Guidance and Counselling Service team visited mom, and took up the slack during a rather difficult and stressful time at work.

A worldwide Christian group, The Navigators, offered help. A staff in California gave me a contact in Tampa, where the accident happened. The Tampa staff, Jan and Dave Hawes, told me they had a room ready and would keep all news articles. This Tampa staff gave me a contact in Miami, Jeff and Claudia Springer, who then took me in for the last two weeks for my time there.

The Detective in charge of the accident in Tampa was also a former Navigator during his University days and he and Dave Hawes had common connections that were once lost and now found all because of the extraordinary events that took place.

Rosalyn Tay in Australia kept in phone contact with me, talking me through very traumatic times, and keeping the ground beneath my feet.

My friends, Janine Suboch from Toronto, and Page Cvelich from North Carolina, flew down and gave companionship during intense lonely times.

Believe it or not, the lawyers were incredible. They went beyond their profession to extend care for me and for the case. The details boggles the mind and their dedication was remarkable.

Mom's friends and churchmates also came out in full force, and many thanks must go to Auntie Jessie for being so present to mom during this time, and the time of her own grief of the loss of her own mother.


Throughout my time in the US, while attending to the many issues in Florida, there was
a sense of grace, mercy, love, compassion extended to both mom and me. And I can't even imagine the amount of prayer that were done worldwide for us. We are at a loss to know how to adequately respond to all this care.

And for me, there was an enduring sense of thankfulness that life does continue (Naomi was born to Cheryl and Andy, how great that new life has come into the family), of the unexplainable wonders that can be had in suffering, of the riches of relationships that can never be taken for granted. It is true that in our times of weakness, God comes through the best.

One example of the many extraordinary events is this:

When I was driving around in Florida, I heard a particular song over the Christian radio station. I called them to ask what song that was, how much it spoke to me, and how I could buy a copy.

It hasn't been released yet, I was told. I was given the website to the singing group called "Selah" (www.selahonline.com ). I emailed the managing agent and explained what I needed and why, and that I would want to share it during the memorial service in Singapore.

Without hesitation, He emailed me the entire song.

The song is called "You Raised Me Up" and talks about God's support and strength during our times of troubles. At the end of this service, you will get to hear this, and also see some pictures of Lawrence growing up.


I wish to thank everyone for your love and your sharing. I would like to thank you for coming alongside us. Truly we see the hand of God in all you have done.

And finally I would like to thank God, who is truly merciful and provides enduring comfort and grace. I am beginning to see that there really is no need for us to prove ourselves or hide our weaknesses – since we are so well loved and well accepted.

May God have mercy on us all and may God bless all of you.