Links in this page :
Lawrence was killed in an airplane accident on 20 Apr 04 near Tampa in Florida. He was piloting the plane when it ran into engine trouble and crashed into a channel about 300 yards short of their runway.
Deepest condolences and sympathies to Chek Chim and Jeannie for their sudden loss.
A memorial service was held at Paya Lebar church on 22 May 04 at 4pm.The service was led by Pastor Wee Boon Hup, and Jeannie gave a very nice eulogy followed by a slide show. Click here to read her eulogy.

Some news links in the Florida news :
http://news.tbo.com/news/MGAK7P5XATD.html - broken!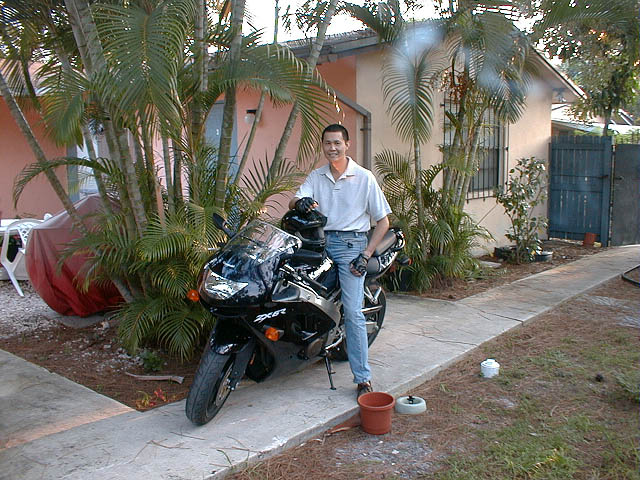 For those who have trouble getting the news articles, here are some copies courtesy of the Sun-Sentinel :

Wilton Manors man dies in plane crash in Tampa area

By Ken Kaye
Staff Writer
Posted April 21 2004

Two men, including a Wilton Manors resident, were killed on Tuesday when their small plane crashed into a channel about 300 yards short of their runway at a Tampa-area airport.

The pilot was identified as Lawrence Koh, 44, of the 800 block of Northeast 28th Street in Wilton Manors. The other occupant, a man in his 20s, was not immediately identified pending notification of his family.

The 1972 Cessna Cardinal 177RG took off from the Pompano Beach Air Park about 9:30 a.m. and was to land at Peter O'Knight Airport in Davis Islands, just south of Tampa, at 11:30 a.m., according to Tampa police.

Instead, Koh announced over a common radio frequency at the airport, which has no control tower, that the plane's single engine was sputtering, Tampa police spokesman Joe Durkin said.

The Cessna crashed into Seddon Channel near Hillsborough Bay, just south of the Davis Islands Yacht Club.

Witnesses said the plane banked hard before plunging into the channel, sinking into about 16 feet of water, Durkin said. Rescue divers recovered the pilot's body from the left front seat and found the aircraft's door partly open.

Jim Hughes, visiting the Tampa area from Fort Wayne, Ind., alerted rescuers to the crash site from his sailboat.

"I heard it and tried to help. I didn't get there in time," he said.

Where the two men were ultimately going was unknown, but Pompano Beach Air Park Manager Steven Rocco said he heard the two were headed to a destination farther north.

According to federal records, Koh had a private pilot's license. The plane was registered to Jay Wehr of Pompano Beach, who declined to comment Tuesday. A person answering the phone at Koh's home also declined to comment.

The Cardinal had been tied down at Anthony Aviation Center at Pompano Beach Air Park "for the better part of a year," said Aaron Vincent, a company employee.

On Tuesday, Vincent said, Koh "didn't get fuel or anything. Most of us didn't even know he had left."

The National Transportation Safety Board is investigating the accident.

Tampa Tribune Reporter Valerie Kalfrin contributed to this report.

Ken Kaye can be reached kkaye@sun-sentinel.com or 954-385-7911.


Copyright © 2004, South Florida Sun-Sentinel

Lawrence Koh, pilot killed in crash

Staff report
Posted April 23 2004

Memorial services for a Wilton Manors man who died in a plane crash near Tampa this week will be Sunday in his hometown.

Visitation for Lawrence Koh, 44, will take place between 2 and 4 p.m. at the Kalis Funeral Home, 2505 N. Dixie Highway in Wilton Manors. A service will begin at 4 p.m. at the funeral home.

Mr. Koh and another man died Tuesday when the Cessna that Mr. Koh was piloting crashed into a channel 300 yards short of the runway at Peter O'Knight Airport in Davis Islands, just south of Tampa.

The single-engine plane took off that morning from Pompano Beach Air Park, and Mr. Koh reported engine trouble just before the crash.

The National Transportation Safety Board is investigating the accident.


L.S. Koh, Manors businessman

By Daniella Aird
Staff Writer
Posted April 24 2004

Lawrence Soojin Koh, a Wilton Manors resident who was helping to bring wireless Internet access to the city and was a major supporter of the city's nonprofit group Main Street, died Tuesday when his small plane crashed near Tampa Bay. He was 44.

Mr. Koh, who was piloting the plane, and another man, Adam Brice Sprague, 23, of Oakland Park, died Tuesday morning after his single-engine Cessna crashed just south of Tampa.

Born in Singapore, Mr. Koh, an accountant for Hilton Hotels, was working to make Wilton Manors the second city in the nation to offer citywide wireless access, allowing residents to connect their laptops or Palm Pilots to the Internet anywhere within city limits without having to use plugs. The first city is Cerritos, Calif.

Mr. Koh, who was also vice president and director of sales for a Fort Lauderdale technology firm called Anywhere Internet, was driven to turn concepts into reality, but also touched others with his kind, gentle manner, said his business partner Bryan Kidd.

"I was fortunate enough to have him in my life," said Kidd, Anywhere Internet's president, who was supposed to be traveling in the plane with him. Kidd, who flew to Tampa separately, was traveling with Mr. Koh and Mr. Sprague to a business meeting.

"His heart was so huge," he said. "He was an amazing friend."

Kidd said the firm had just started to launch its wireless project in Wilton Manors by installing antennas on businesses along Wilton Drive.

"The new technology that we were going to bring to people was going to change people's lives," Kidd said. "We were working on some incredible things and our dream is still going to come to fruition."

Mr. Koh was also a supporter of Main Street, where he was on the group's economic development committee.

"We lost a very, very special citizen," said Executive Director Hal Miksch. "If he said something, you knew he meant it. He was so full of life. Whenever he left, there was this big hole. That's what we are feeling right now."

Mr. Koh is survived by his mother, Beatrice Koh, and his sister, Jeannie Koh, both of Singapore.

Memorial services for Mr. Koh will be Sunday. Visitation will take place between 2 and 4 p.m. followed by a service at Kalis Funeral Home, 2505 N. Dixie Highway in Wilton Manors.

Daniella Aird can be reached at daird@sun-sentinel.com or 954-356-4550.