Links in this page :
Here are some photos and comments courtesy of Joo Kim ! She actually sent this to our brother, Joo Ann, in Vienna after she returned. So there are parts that are a bit private hor....(got pun there one)...
Written on 23 Mar 04.

1) siblings-rajah
This was on the morning we left for the climb. we're in front of rajah lodge, which is where Cheng & a few others stayed. we (beng, janet, justin & i) stayed in Nepenthes villa #5, which is just down the hill, by the side of rajah lodge. a very comfortable, homely villa, with a real fireplace. janet was funny, she said climbing up the slope from the restaurant to our villa was the equivalent of mountain climbing for her.
there were a total of 35 climbers in our group, 9 were from the MOE and the rest were from Cheng's extended group. about 6 of them are actually using this climb as training for their Kilimanjaro climb in June.
2) Timpuhon gate
We took a 10min bus ride to the power station, and a short walk brings us to this gate which is the start of the climb. it goes uphill from the word "go"! hardly any flat, level ground after you pass this gate, only steps fashioned out of wood, tree roots, rocks & boulders. it is an unrelenting cardiovascular workout, that puts all gym stairmaster equipment to shame. can you imagine there's a climbathon each year, and hundreds of mountain runners congregate here and run up to the summit plateau and down? the record for the fastest runner is 2 hours 35 minutes, up & down! don't we look fresh and eager? that's Jeannie in the background to the right of picture.
3) Beng's climb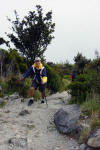 This is nearing the high "camp" - Laban Rata, about 5 hours or so later, doesn't Beng still look fresh and eager?! He swears by those walking poles, they certainly helped take alot of load off the knees, and provided some stability and support especially up in the thinner air of 3,000m and above when you're somewhat wobbly and woozy!
4) siblings at laban rata
yay! we made it! it was like summitting in that it took quite alot just to get up to laban rata, which at 3, 270+ m is the high camp before the summit attempt. so we left timpuhon gate just after 9am, and reached laban rata at 3pm (am i right beng?). the faster ones took around 4 hours+. Laban Rata is actually quite luxurious by mountain climbing standards, there are hot showers, heaters in the room, and a restaurant that serves yummy corn soup and cream of chicken soup, as well as other carbo-loading meals like fried rice, noodles, steaks. the rooms are dormitory style, with 4 to 10 bunks per room. there are 2 VIP rooms (which Cheng took) that have attached bathrooms. it was rather cold at night, around 14 degrees (this is of course nothing compared to what you've had to put up with tai-kor!).
we're standing on a nice flat piece of ground, in front of us are two flag poles, in the evenings the porters set up a net here and they play sepak tekraw , which is amazing to witness - how they can run about, at that altitude with nary a cough or a wheeze, and it's especially stunning to see how they scamper down the side of the mountain to retrieve a wayward ball!
right behind where we're standing is the spot where we all had a star-gazing session conducted by Beng, on the 2nd evening (after summitting). the stars are incredibly spectacular! we almost could not climb from wanting to look up all the time instead of watching where we were to put our feet next. Beng had brought along his star laser pointer, and he helped us identify the milky way, orion, pleides, gemini, taurus, saturn, jupiter rising, cirius. and whilst on the summit climb the southern cross was all ablaze, keeping watch over us as we inched our way to the top.

5) Beng - s.peak

i'm surprised i even managed to take this shot, which is on the summit plateau, as i was overcome with horrid nausea, shortness of breath, immense fatigue...and...an urgent and desperate desire to poop! it's about 5 something in the morning. we'd left laban rata just after 3am, after slurping down a bowl of soup each. then it was as if we were on a midnight spiritual pilgrimage of sorts, and i must have been sleep-walking because coming back down in the daylight i could not recall many of the landmarks we passed (like a whole hut on the slope!). it's pitch black except for the stars and a few lights from these lampposts (yes, can you believe somebody lugged lampposts 3,200m up??) at the start of the summit trail, and you're walking single file following the shadowy figure of the climber in front. most of us have head lamps/torches, and there's a twinkling trail of lights leading up the side of the mountain.
the climb starts with these wooden stairs, which go up, up, up; then you come to a rocky part, like a dried-up waterfall. and next is the panar laban rockface, which you have to haul yourself up using this fixed white rope. it's at an angle of 80 degrees for most of the way. in the dark, you just haul yourself up, not really looking around since it's too dark to see anything, but coming down in the daylight it's alarming and terrifying to see what you came up - it's a sheer rockface, with a drop off to who-knows-where. we can't believe no one's had an accident there yet.
south peak is quite a pretty peak, with a nice swooshing slope up. Cheng is considering climbing it next year. you need a special permit to climb any of the other peaks. you'll notice behind Beng, to his right, is the white rope along the ground. this is the white rope we follow all the way to the summit. it really helps, especially when the mist/clouds roll in, as it did on our way down.
6) summit plateau

this should actually come before the previous pic, as it's the climb up (after the panar laban rockface) to the summit plateau. after you check in at the sayat-sayat hut (at the 7km mark). This pic. sort of gives you a sense of the gradient. you can see the white rope marking the trail to the summit. it's like a rock dessert that just goes on and on, even though you can see the summit of low's peak just in the distance, you don't seem to get any nearer, and it's truly a test of physical and more importantly, mental determination and perseverance.
the altitude affected me quite a bit, like i said i was so nauseous, and bloated. it was a real struggle for me just to keep putting one foot infront of the next and keep going. it was very sweet and encouraging of Beng to push me, on my bum, from behind, and keep me distracted from giving up with his singing/humming of "my favourite things" (raindrops and roses...? not entirely apt but still did the trick..! ;-)
and then the bloating got too severe, i could not take another step, and it was the fastest i probably moved on the way up, to get off to one side, trying to hide behind a rock as much as i could, to poop! and what a BIG poop it was too! more than the size of 2 of my fists put together (since we're all family i'm sure you won't mind the graphic details). i felt so much better and relieved after that. oh, but before the poop, i was perplexed by not having any toilet paper, and neither did Beng. he was once again so sweet to offer his bandana! he also rummaged around and found an old receipt! i was so desperate i was prepared to use a stone, but thankfully i found 2 scrunched pieces of tissue in my trouser pocket. can you believe i managed with 2 tissues with such a HuMONGous poop!?!!? yes, i got it all cleaned! thank goodness i have a clean intestinal tract and bowels! so, my big lesson for the summit climb is - bring toilet paper!
7) siblings' summit

we made it!! after 4 and a half hours' climbing, we reached the summit at 7:30am, on tuesday 16 march 2004. and what a blessed, gorgeous day it was for our summit climb - no wind, rain or mist. we had a perfect blue sky, with a glorious sun out. we stayed on the summit some 2 hours, waiting for the rest of our group, taking photos (of a half-naked man...but that's another story...), and singing songs (carpenters' "top of the world"), and i did spend some quiet time reflecting/praying and carrying out a personal ritual of sorts.
when i walked the summit plateau to get to the base of low's peak, i was so spent physically it was so discouraging to look up at this jumble of rocks that you had to climb/haul yourself up to get to the peak. this was easily a place to give up, although it was very hard to give up here as you could see the summit and you were so, so near. it really took every last ounce of strength and determination to get to the summit. having got there, i was so overcome with fatigue, that the sense of achievement only kicked in later. and then the view, the amazing sensation of being on a peak, looking down on the clouds, the other peaks, the land below, looking at the vastness of the rocky ground you trudged to get to this high point....it was very emotional for me, and left me with a wordless sense of awe, wonder, gratitude, peacefulness. i can see why some are addicted to the desire to climb to the top of mountains. i don't think many other experiences replicates that sensation of being on a peak of a mountain. what a glorious, wondrous, humbling experience! how blessed that i have had that experience, and with my brother by my side! thank you Beng, for being there beside/behind/ infront of me, all the way!